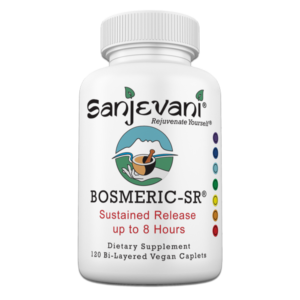 For healing to occur in the body, the first step required is to put out the fire of inflammation, and Bosmeric-SR™ excels at the job.
Bosmeric-SR™ offers an effective natural alternative to NSAIDs for chronic inflammation. I switched to Bosmeric-SR™ since it was first developed because of its outstanding performance in eliminating pain and inflammation. No need for NSAIDs and their dangerous side effects!
Bosmeric-SR™ is the strongest natural supplement for pain and inflammation support on the market today, containing the highest available doses of natural NF-Kappa B, COX-2 and 5-LOX inhibitors. In clinical testing, the ingredients in Bosmeric-SR have been shown to reduce over 97 mechanisms of inflammation in the body!
This product is a safe and very effective alternative to NSAIDs such as Advil or Aleve – both of which now carry black box warnings due to the life-threatening risks they pose to users. If you've been looking for an effective alternative to NSAIDs, this is it! Bosmeric-SR™ will get rid of the chronic inflammation that accompanies gut dysbiosis, autoimmune conditions and chronic pain.
Bosmeric-SR™ is a sustained release formulation of four patented ingredients that delivers superior absorption within 20 minutes and sustained release over an 8-hour period. Each bi-layered vegetarian caplet contains the highest available dosage of Curcumin C3 Complex® (Curcumin longa) at 95% extraction; Boswellin® PS Polysal (polysaccharides extracted from Boswellia serrata) and Ginger Extract (Zingiber officinale) at 20% gingerols. In addition, Bioperine® (Piper nigrum) is added at 95% standardization to further enhance bio-availability of these ingredients.
Food sensitivities? No problem – Bosmeric-SR™ is certified pesticide-free, gluten-free, soy-free, Non-GMO and non-irradiated.
Bosmeric-SR™ is not sold in drugstores or vitamin stores. It is exclusively distributed by Dr. Sunil Pai, who formulated it.
I have negotiated with Dr. Pai for a 15% discount off single bottle orders, every day. No more need to wait for a sale – you can order Bosmeric-SR any time! To get your 15% discount, just use the discount code stillpoint at checkout.
You can order this amazing product right here, or use the button below.
Eliminate pain and inflammation today.
Need help?
If you need help or more information, please call me at 786.250.2484 9-6 Mountain Standard Time or complete the Contact Form and I'll get back to you in 24 hours.
Subscribe for your FREE SOUL FOOD!
Subscribe here for Soul Food, my monthly newsletter with bytes of inspiration.